I spent five days at the beginning of June in Istanbul, being a tourist. I had a great time and came back with lots of ideas and thoughts. Below is my post of all the things I wish the guidebooks or online sites had told me before I went — I'll write about the imaginative aspects later. Right now, not all the place names are correct because I didn't use the Turkish alphabet – I will make edits a little later.
Basics:
Drinking water: CARRY IT into museums and sights! Water fountains don't seem to exist. I refilled a water bottle from a tap in a restroom once (in the Archaeology museum), which was chancy – I drank some tap water with no problem but pretty much everyone drinks bottled water, which is cheap and plentiful.
Walking: I walked nearly everywhere. Streets are cobbled and often with narrow or non-existent sidewalks. Have good shoes.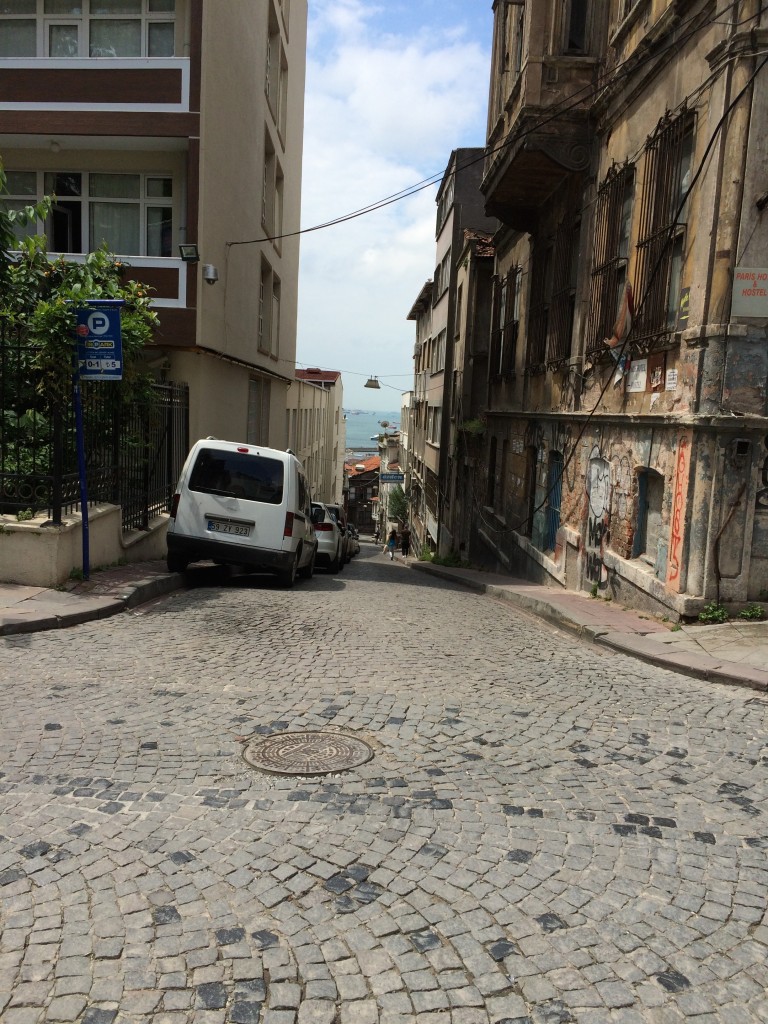 Tipping: carry small bills for this purpose. The three restaurants I ate at where I ran my debit card returned the card to me with a receipt with no line to add a tip. The second time I asked how to leave a tip and the waiter was like, "It's not necessary, you can if you want," which was contrary to what I had read in my guidebook (it said 10%), so I remain somewhat baffled as to the necessity. It seems an appropriate thing to do, though.
Dogs and Cats: feral animals roam the streets. All of them were well-behaved, and none caused problems (although I did hear a few cat fights at night and witnessed a daytime mating). The dogs mostly lay on the ground and slept. Some of them have tagged ears. The locals mostly ignore them. But if you have a dog/cat phobia, or a small child who will want to pet every animal it sees, be prepared.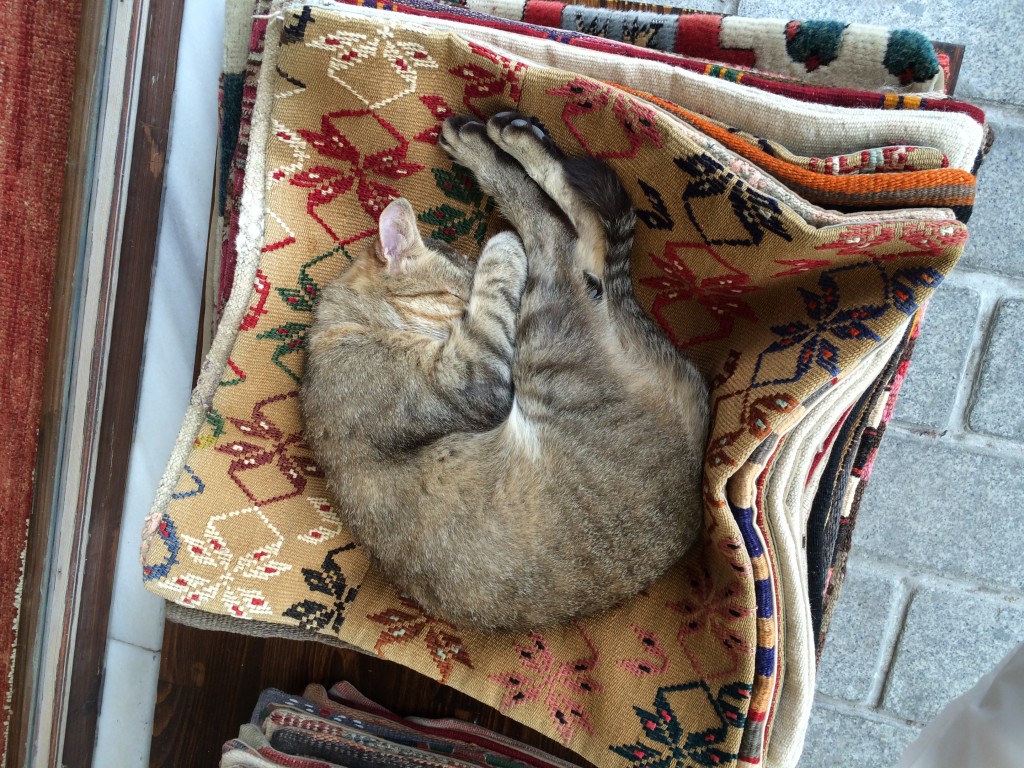 Milk: Turkish milk tastes like liquid yogurt. Very sour.
Sultanahmet Square: Avoid it like the plague. Take side streets to get from one attraction to the other. There are tour guides everywhere, and they won't take No for an answer. It's like going into a car dealership when you don't even want to buy a car. I probably got it worse than some people because I was a woman traveling alone, but by the end of four days I was being almost rude b/c I was sick of being harassed.
Related to this, the restaurants in the tourist sections have people ready to leap on you if you stop to glance at the menu. Most of them serve pretty much the same food, especially if you are a vegetarian. For some reason one of the "American" dishes is always pepper steak. However, the portions are good, and the food was tasty. When I asked for a take-home the first night, the waiter looked like he had never heard of such a thing, and they jury-rigged a container out of tin foil. It was a cheese appetizer and made an excellent breakfast the next day, but after that I ordered less food and ate it all at the restaurant.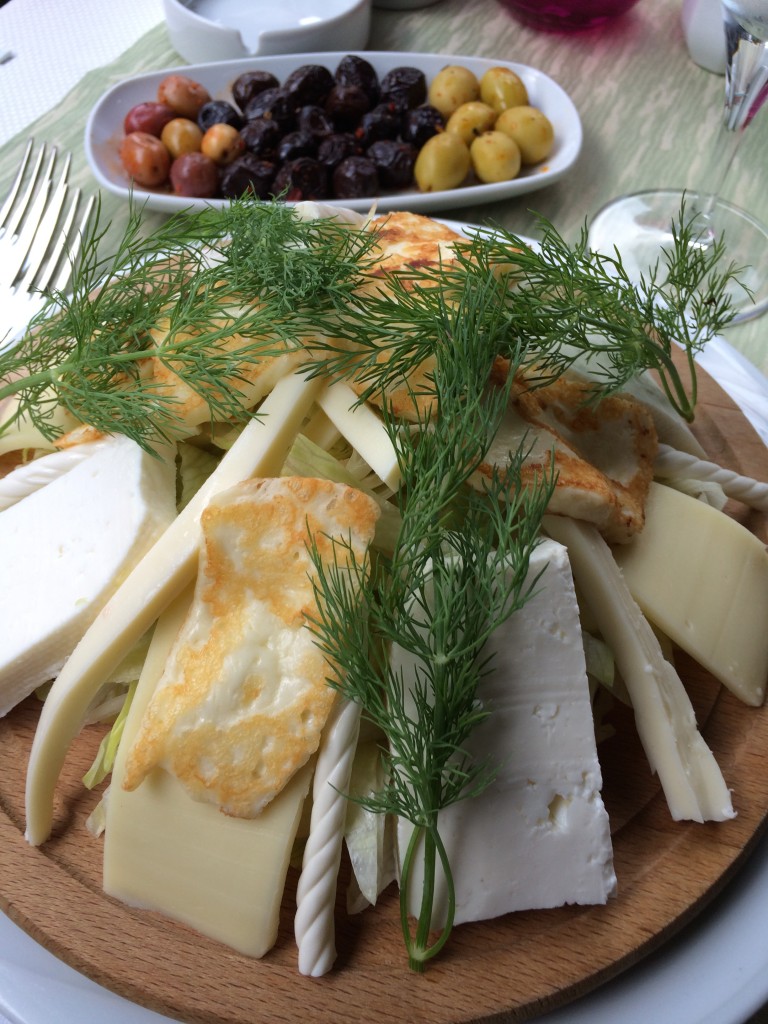 Calls to prayer: I was staying fairly close to a mosque (it's hard not to), and I was awakened at 10:30 p.m. and 4:30 a.m. by the calls to prayer. They use loudspeakers to broadcast. After the second night I slept through them, and I actually liked hearing them because it felt so untouristy, but it startled me immensely when I was sleeping through my jet lag the first night.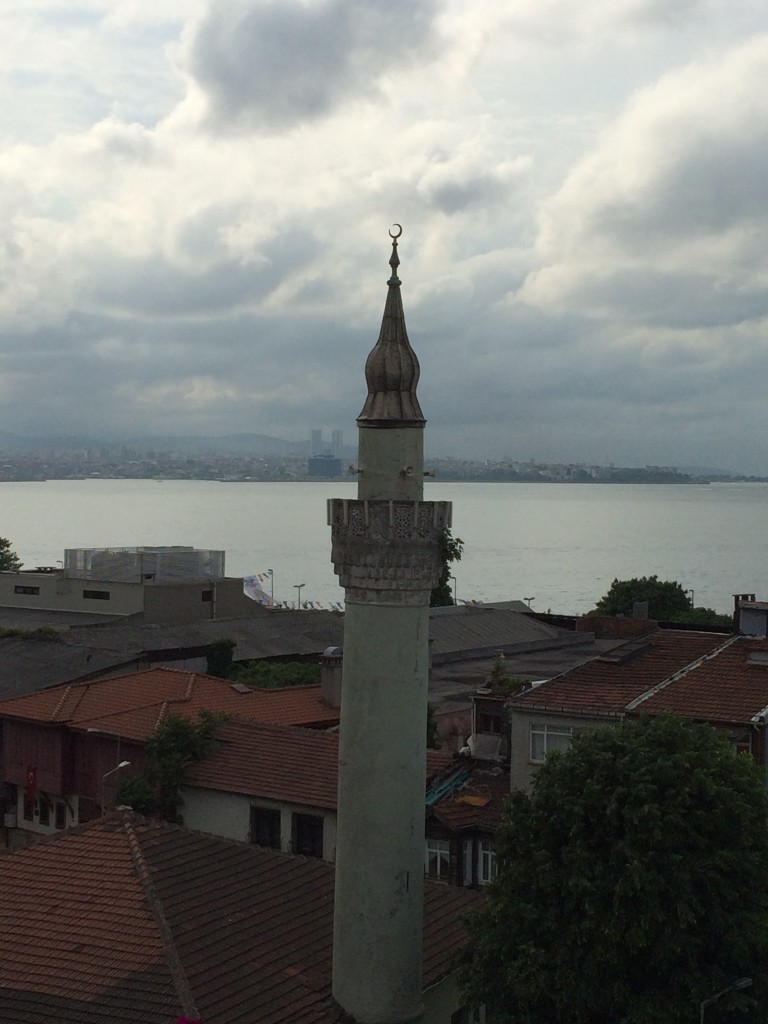 Grocery: I had a nice flat with a very small kitchen (no microwave, just basics for other kitchenware). There were numerous "corner-store" type markets, which all had fresh fruit and vegetables, some dairy, and lots and lots and lots of packaged snack stuff. And alcohol. Not much in the way of actual food. I found a grocery on my next to last day, more or less by chance. It was somewhere around Yerebatan Cd. and Alaykosku Cd., but I can't find it on Google maps and I didn't mark it on my own. It was small, but it had meat, produce, spices, basics stuff you would need to cook with. I think it was the Greens chain, but it's not marked on the map. I know, I shoulda took a photo.
Airport (Ataturk IST) – arrival (international): My plane got there around 7:00 p.m. and it wasn't very crowded at all. Passport control line, then baggage claim (baggage claim is a large area, it may take some time to get your bags depending on how far you are from the carousel), then customs. Customs consists of everyone walking through a wide open door that says "Nothing to Declare," while the bored customs agents sit there. Took no time at all. On the other side of customs there is a rather overwhelming horde of people waiting with signs to get their shuttle passengers. I had a shuttle arranged, so I don't know how difficult it was to get a taxi or take public transit. I did not see an ATM anywhere to get cash for the shuttle. They may be located down by the public transit area. Or I might have just missed them – I was pretty tired at that point.
Airport (Ataturk IST) – departure (international): It took me about 40 minutes on a Sunday morning to get from Cankurtaran to the airport with no traffic, via taxi. The taxi was about 15 lira more than my guidebook said – I don't know if I was getting ripped off or if the guidebook was wrong. I got there at 9:00 a.m. and had plenty of time for my 12:00 flight. However, I can see that at a more crowded time it might be longer. You have to go through security to enter the airport, then check-in (can self-check), then passport control, then security again.
Bathrooms in public places: I found them all clean, but often there was no TP. Grab a handful from a roll or some paper towels before you go into a stall. This seems to be the norm. Some of the toilets require you to pull up a plunger on the top of the tank instead of using a flush button. Turkish toilets are round with a deep trap at the back, instead of a curved bowl and gentle trap. They all use way less water than American toilets and are quite effective.
Attractions:
Topkapi: The lines for the Royal Treasury and the Chamber of Sacred Relics were both extremely long by noon. I decided I didn't want to stand in line for a long time just to look at jewelry, so I skipped them. But if you are interested, do that first upon arrival when the palace opens at 9:00. I spent most of my time in the harem, which was fascinating. Totally worth the extra admission cost.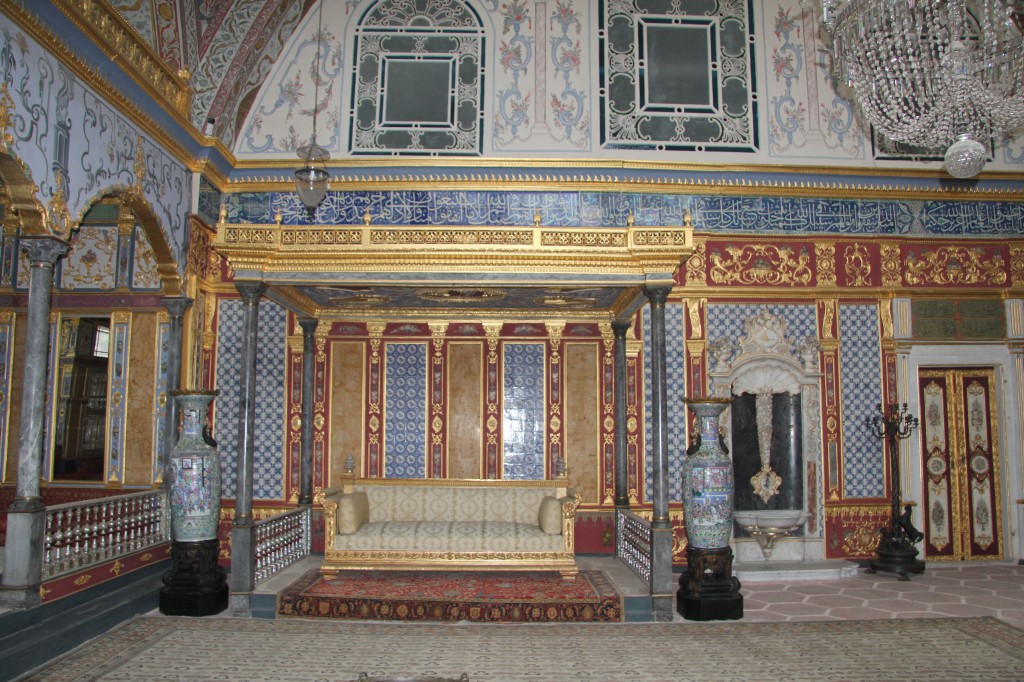 Blue Mosque: It doesn't take very long to see, but if you want to get there before it's crowded, get in the front of the line at least half an hour before it opens. Shortly thereafter it is packed with people taking selfies on a holy site.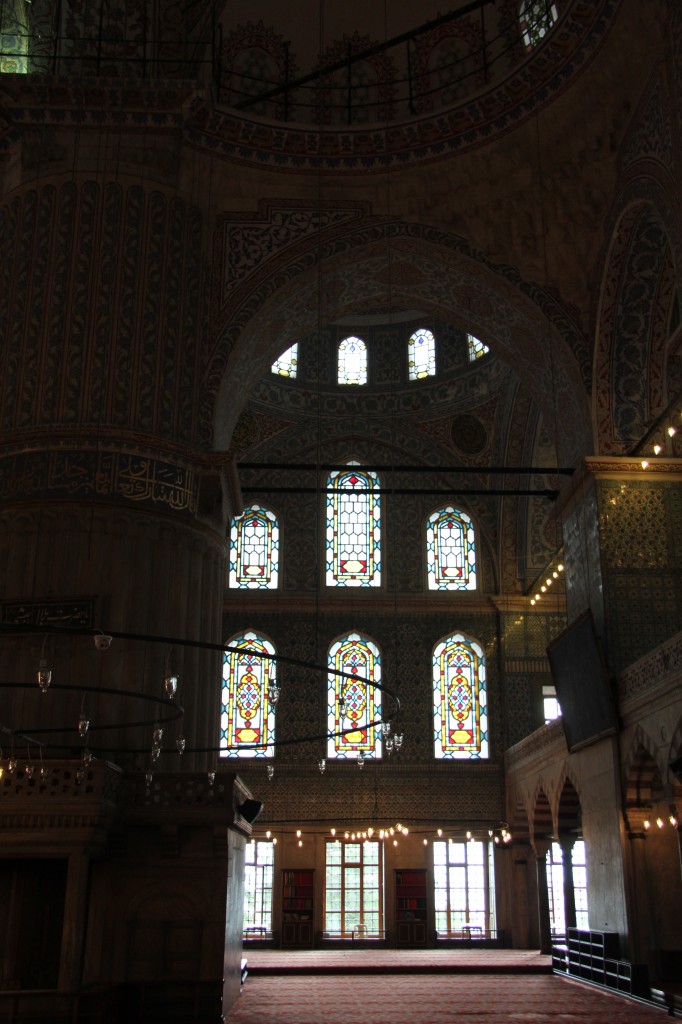 Aya Sofia: Also good to get there early. It doesn't take a lot of time either. You can see both the Blue Mosque and the Aya Sofia in the same morning with no trouble. (The mosque is closed to visitors Friday mornings, though.)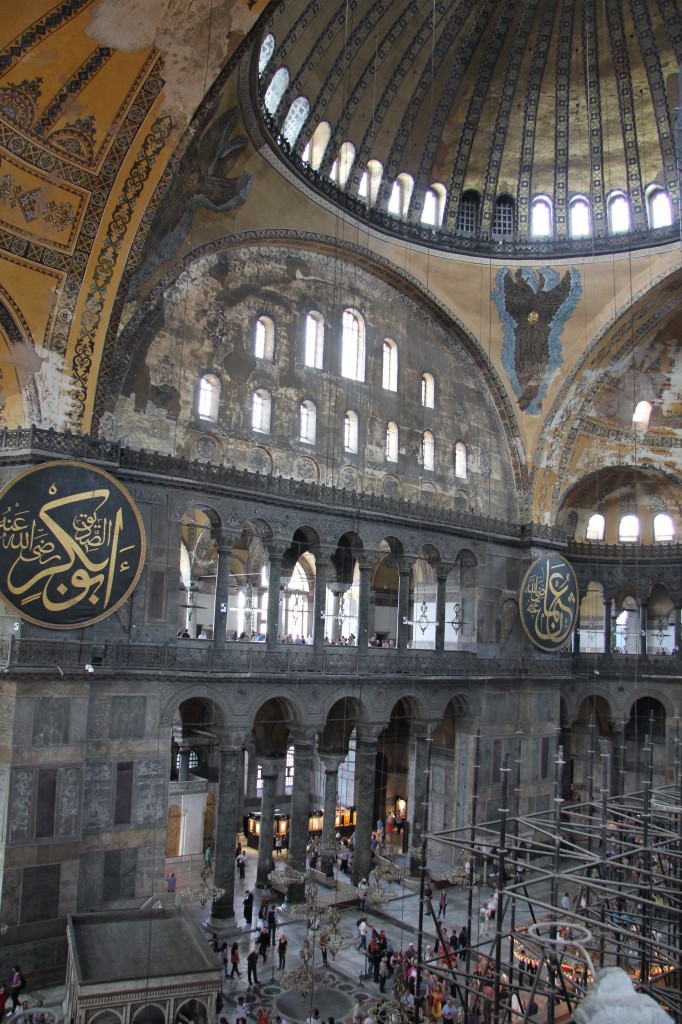 Aya Irini: On the Topkapi grounds. This was nice and quiet, perhaps not worth the admission fee if you weren't using the Museum Card. It was set up for a summer music series, so I didn't really get to experience the feeling of it as an ancient church – it had seat, electronics, etc. There was netting draped above the audience chairs and the sound equpiment to catch the pigeon droppings and feathers. The entrance is old and steep and interesting, and it was nice and cool on a hot day.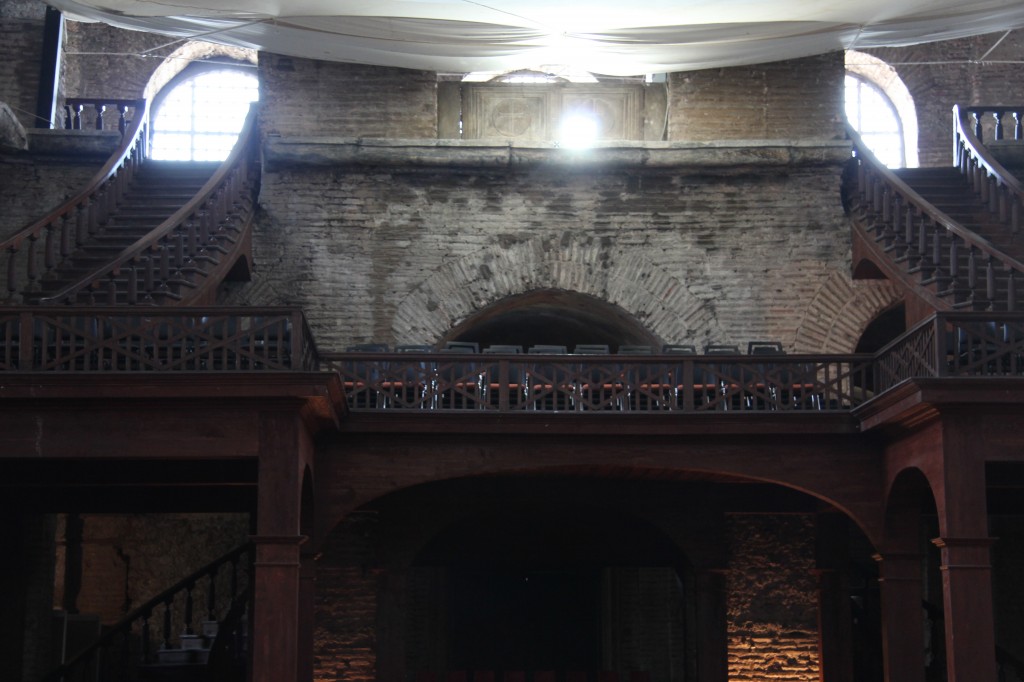 Little Aya Sofia: This is down a side street which gets you away from the more touristy parts of Sultan Ahmet. It is small and slightly musty and felt more like a place of worship than the Blue Mosque. It was a good place to go to when I wanted some quiet (until a tour group came in). The art is not as spectacular as the other sights but is still interesting.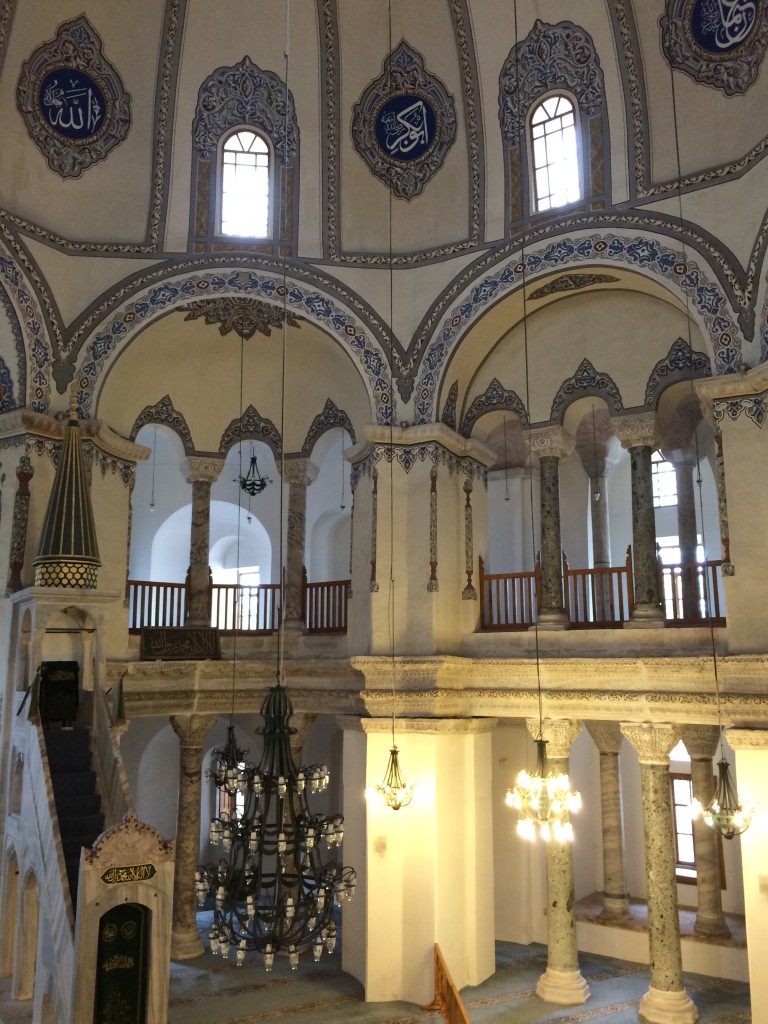 Basilica Cistern: Wear good walking shoes. The floor is slick. It's a fascinating place, My guidebook said, and I heard someone telling the ticket seller that her hotel had said, the Museum Card was good there, but they refused to take it. Said they're private, not run by the ministry. I paid my 20 lira. It was cool and dark and ancient and had fish, and I loved it.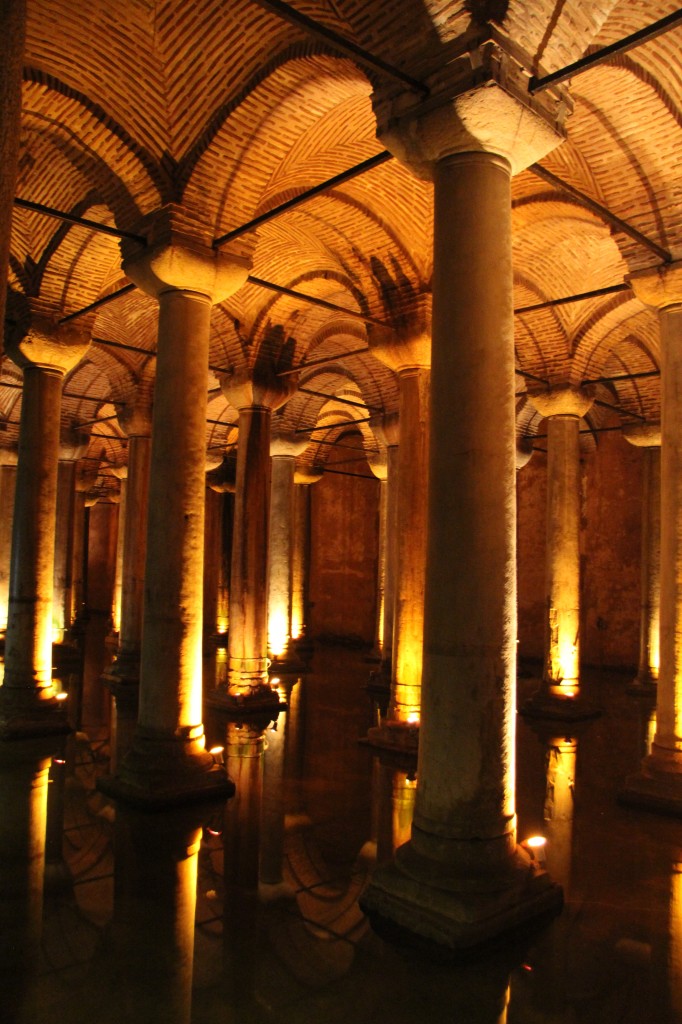 Ferry: It took me about half an hour to walk from the Cankurtaran section to the Eminonu ferry for a Bosphorus tour. I just followed the tram route from Sultanahmet Square and it took me right there. I took the long tour ferry up to Yoros Castle and had a good time – the climb to the castle is steep, and the land around it has been taken up by cafes, but the views were good and we had full access to the ruins, which is not always the case apparently. There was a dig going on and land was roped off, but when the guy saw me walking around with my camera he let me go through. There's a clean bathroom (donate a lira) off of one of the cafes.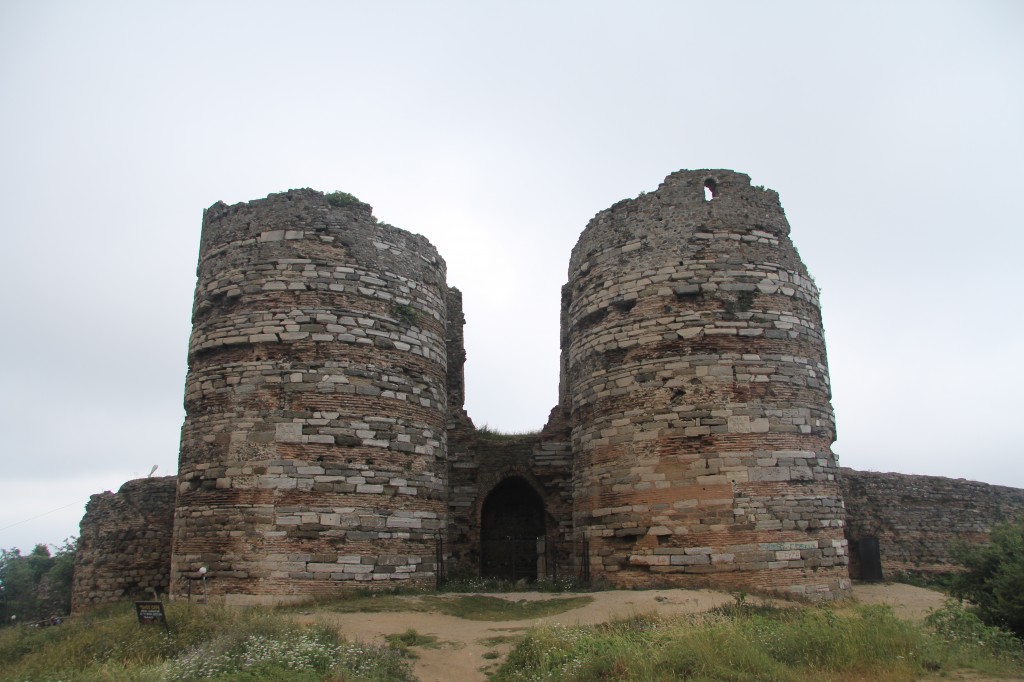 Theodosian Walls: I took the tram from Sultanahmet Square to Topkapi Kavsagi, walked around the walls for a while, crossed the street to the other side and walked around some more, got some nice pictures of the city. Then I took the tram back from the Pazartekke station. Easy. The walls on the south side of Turgut Ozal Millet Cd were in more disrepair and had homeless tents. I was not confronted by anyone – didn't even see anyone – fairly early on a Saturday, but I was a little wary. On the north side the walls are right up against a neighborhood. Parts have been restored, and there's a nice-looking café that seemed to be frequented entirely by locals.
Grand Bazaar: I fled after about half an hour because my throat was hurting from the cigarette smoke. I didn't see that many people smoking, but there was a definite Essence of Tobacco to the air. Don't go in if you're sensitive. It would be absolultely impossible to shop there – the stores are packed with merchandise and quite identical to each other. If you are looking for interesting stuff to buy, try the Arasta Bazaar on the southeast side of the Blue Mosque. It's quieter and has better and more intriguing goods. I didn't buy anything at all, but if I wanted to that would have been the place.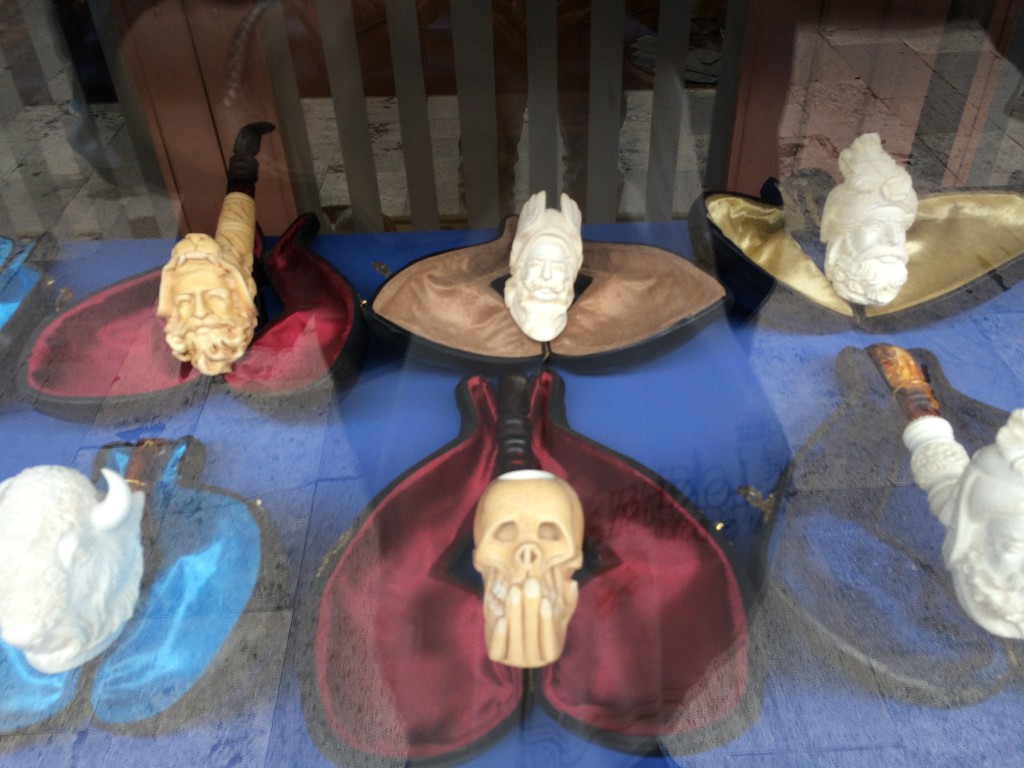 Guilhane Park: Restful, green, filled with people but not overly crowded, nice trees and lawns and quiet. Highly recommended for introverts.