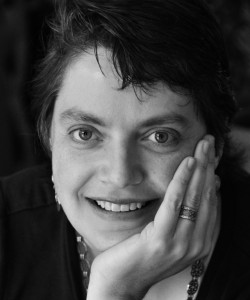 I was born in Chicago and have lived in 8 different states, eventually ending up in California.  I graduated with a BA from St. John's College and went on to get my MFA at the University of Pittsburgh. After this came a Ph.D. in English from Kent State University, and then a dry spell with no school for about six years before I started law school at the University of California, Hastings College of the Law.  I am a licensed attorney and volunteer mediator.
When I was in my doc program, I edited what was then the first scholarly collection of essays on race and color in science fiction and fantasy (Into Darkness Peering, Greenwood Press, 1997). I authored the chapter on race in The Cambridge Companion to Science Fiction (Cambridge, 2003). Additional critical work and reviews have appeared in various academic journals.
I have a husband, daughter, and two cats, Theo and Albus. When I'm not writing or having family time, I take walks and go on photography expeditions, or listen ever-hopefully to Chicago Cubs games on the radio.
Trivia: the most unusual job I've ever had was doing inventory in the Virginia state prisons.  Me, my partner, guards, and convicts in the license plate shop.  This hasn't ended up in a story yet, but probably will sometime.
Favorite book: it varies, but often it's Pride and Prejudice.
Book that was the biggest influence on me:  The Elements of Style, Strunk & White.  I'm not joking. Anyone who wants to write should read this over and over.
As far as writing goes, I'm a throw-it-at-the-wall and see what sticks writer, rather than an outline writer.  This means I revise a lot, but I also can surprise myself with new plot twists.  Right now I'm working on another novel, but I won't talk much about it until it's print-ready. Things change fast.
My first name is Elisabeth. With an "S." Everyone shortened it to "Liz," which I hate, so I started going by Anne.  I answer to either.